Become a Member
Support your Swiss foreign policy think tank and enjoy the unique advantages and the access to a top-class foreign policy network – national and international!
Blog – a platform for controversial articles on foreign policy issues
Upcoming Events
Join our absorbing debate about the interdependence between democracy and human rights in a globalized world
Human rights and democracy go hand in hand. Democracy is the political system which embodies the autonomy of the individual inherent within the idea and concept of human rights. Human rights are therefore an integral part of democratic systems. A democratic state must have mechanisms that guarantee human rights are respected through democratic opinion-building and decision-making processes. Moreover, human rights cannot be fully implemented if the political and legal system is not democratic, since every human being's participation in opinion-building and decision-making processes is protected by human rights.
The principles of democracy and human rights are therefore deeply intertwined. This raises a lot of interesting questions: Is democracy in practice really a precondition for the protection of human rights? What is the role of human rights in autocratic states? What are the strengths and weaknesses of the international system - in particular the UN - in promoting human rights values and democracy? For Switzerland these questions become more pertinent, as it will be a non-permanent member of the UN Security Council in 2023 – 2024.
We are therefore looking forward to a thought-provoking keynote speech by
Delilah von Streng, Research Fellow at the Swiss Centre of Expertise in Human Rights
and an interesting debate with a set of distinguished panelists:
Stefanie Bosshard, Director at the Swiss Democracy Foundation and member of the Board of foraus
Michael Ineichen, Head of Advocacy at Amnesty International, Swiss Section
Gilles Roduit, Deputy Head at the Peace and Human Rights Division, Federal Department of Foreign Affairs
The panel will be hosted by Prof. Laurent Goetschel, Professor of Political Science at the University of Basel and Director of swisspeace.
The keynote speech and panel discussion are followed by an aperitif.
foraus Basel is organizing this event in coordination with swisspeace and Democracy without Borders Switzerland.
Due to the limited capacity of the room, registration via eventbrite is advised.
What is the concrete impact of international treaties given the fact that civilians are always the first victims of armed conflicts? In 1997, the signing of the Ottawa Treaty brought great hope for future generations. 25 years later, it is time to assess the situation. What progress has been made in protecting civilians in populated areas will be signed. How will it change the life of people in the field? What challenges remain to be faced? What role should Switzerland play, based on its humanitarian tradition? Where do we stand today? Join us on Tuesday 29th November for a roundtable organized by Handicap International - Humanity & Inclusion with Jana-Christina von Dessien from our International Law Program! Other speakers include: - Margaret Arch Orech (Ambassador from Uganda, ICBL, CMC) - Gilles Cerutti, Head of Humanitarian Diplomacy Section, FDFA - Alma Taslidzan Al Osta, Advocacy Manager Protection of Civilians, Handicap International When: Tuesday 29th November, 13:15-14:45 Where: Generationenhaus, Bern Register at: e.sierro@hi.org
Ein gemütliches Get-together mit Inputs zur Schweizer Neutralität in der Aussenpolitik.
Der Ukrainekonflikt diente als Katalysator einer intensiven Debatte des zentralen Kredos der helvetischen Aussenpolitik: Die Schweizer Neutralität.
In diesem Dialog nimmt auch "foraus" Stellung und nun möchten wir mit Dir darüber diskutieren. Eingeladen sind Christina Graf und Carl Jauslin, Co-Autor:innen einer aktuellen Publikation zur Thematik sowie Julian Stöckli, Autor eines diesbezüglichen Blogbeitrages. Dabei werden wir nicht nur das Konzept der "Kooperativen Neutralität" besprechen, sondern auch die rechtlichen Vor-, respektive Nachteile des seit 1815 herrschenden Dogmas reflektieren.
A SIP OF POLITICS ist übrigens das neuste, regelmässig stattfindende Eventformat von "foraus Zürich". Dabei wollen wir im Rahmen einer gemütlichen Runde gemeinsam anstossen und plaudern sowie die Inputreferate der Gäste geniessen und diskutieren.
Wir freuen uns auf Dich!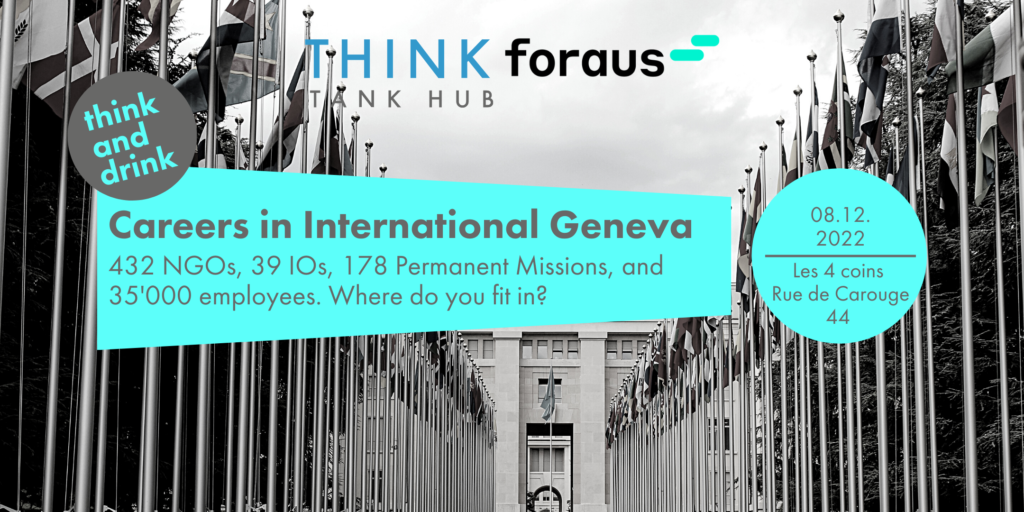 432 NGOs, 39 IOs, 178 Permanent Missions, 17 platforms and over 35'000 employees. Where is your place in the great ecosystem that is International Geneva?  Before the summer break, a first edition on the careers in International Geneva took place and it was a success. We want to give you another opportunity to join this discussion before the winter break. The December edition of our Think&Drink afterworks is centered around the career paths that can be found among the institutions that make up International Geneva. What can a career in International Geneva look like? What determines if that career is right for you? More importantly: where do you start looking?! The career possibilities in Geneva are numerous, and can take on as many different forms as there are organizations: some organizations prefer to keep their activist roots intact, while others believe that a strong bureaucratic structure will help them to be more effective. Some are composed of a team with hundreds of colleagues, others work in small but busy teams.  The organizations present in Geneva can help you to change the world, but finding one's way among them can be daunting and confusing. Our guest, Yvonne Knoepfel, is here to give the participants some perspectives, with insights and share the experiences she made during her own career.  Do you want to take part in our discussion? Register and join us on Thursday, 8th December 2022 at Les 4 Coins (Rue de Carouge 44). 
More
Back to top